What Are The Different Types Of Hair Extensions?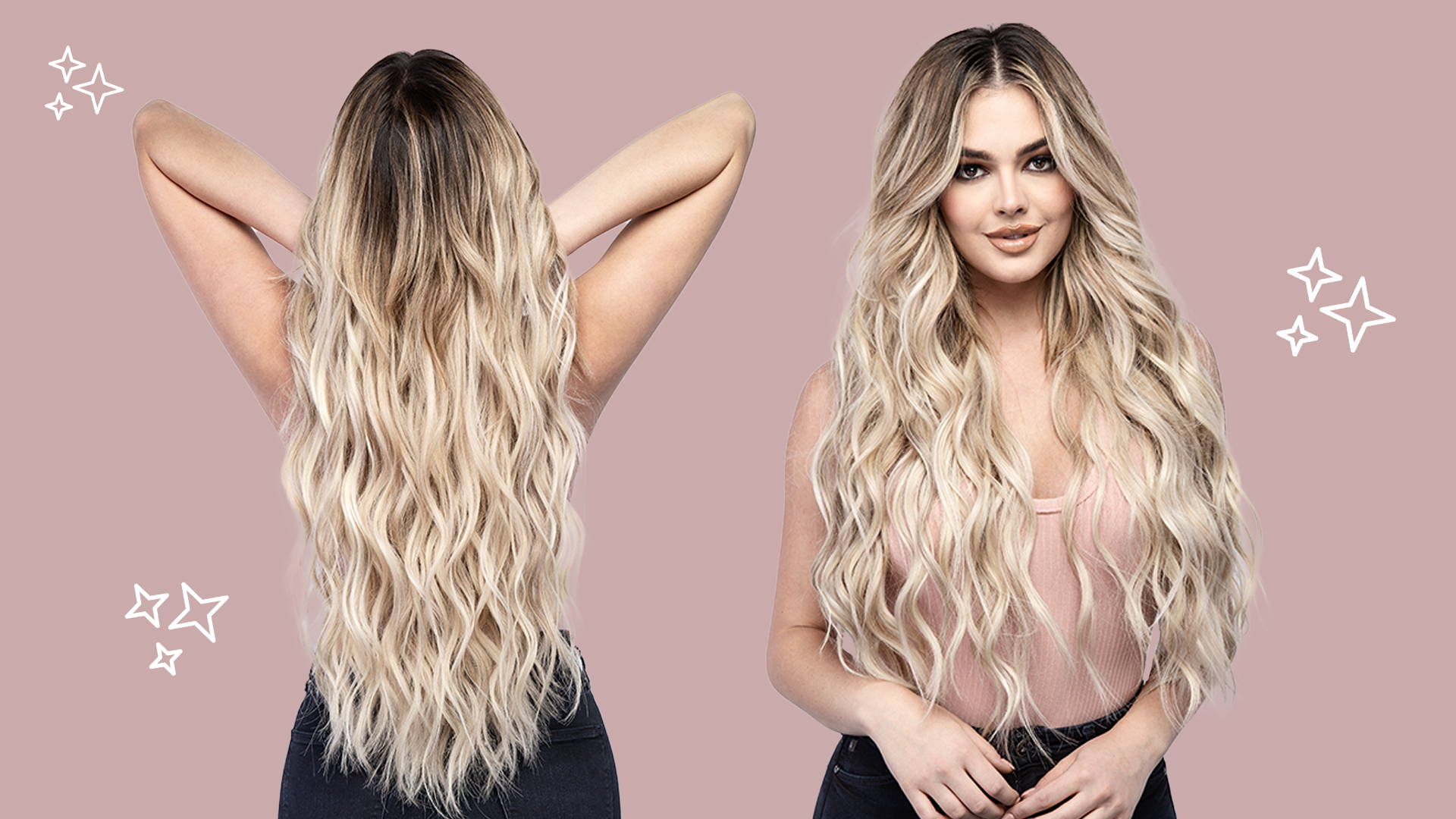 Switching up your hair to a longer, fuller, more voluminous style is fun, and one of the best (most non-committal) ways to achieve a major hair makeover is by experimenting with extensions. With the vast amount of hair extension types available, it can be difficult to figure out which are best for you. The type of hair extension that is best for you depends on your type of hair and your overall preferences. Here's a guide on the different types of hair extension methods to choose from.
BELLAMI Hair Clip-in extensions are made with the highest quality, 100% Remy human hair. Available in the widest range of colors, length and weight, they blend naturally with your own hair and can be easily styled with thermal tools. Clip-in hair extensions are a perfect temporary hair extension method, which can be easily applied and removed. They are the safest and quickest system to obtain longer, thicker hair without the commitment of permanent extensions.
READ NEXT: Silk Seam™ vs. Classic Hair Extensions
Clip-in hair extensions are easy enough to install by yourself at home. Depending on the number of wefts included in your BELLAMI hair extensions and your desired hair thickness, clip-in hair extensions take less than 10 minutes to apply and require no heat, glue or chemicals. (Pro tip: we recommend gently teasing the base of your hair before installation for your strongest hold.)
READ NEXT: How to Install BELLAMI Clip-In Extensions
BELLAMI Volume Wefts hair extensions are ideal for coarse, curly or thicker hair. No tape, glue or heat needed for this volume-enhancing look as they are sewn in to the hair. BELLAMI Volume Wefts allows for fullness but with improved comfort and wear. This patented weft construction provides a thinner, softer and more flexible weft that lays flatter to the scalp without losing volume.
BELLAMI accredited stylists apply Volume Sew-in Wefts using a BELLAMI looping tool, BELLAMI beads, a BELLAMI micro-beaded threader, a spool of nylon-based thread and a curved sewing needle. Installed by choice method of beads or braids to create a secure base. The application itself takes 3-6 hours. With proper maintenance, your volume weft will last 6-12 months.
As the name implies, tape-in extensions adhere to the hair's root using medical-grade tape and are usually 1.5 inches wide. What results is an instant, practically unbreakable bond that means there's no way that hair is going anywhere. This method is 100% natural and requires no tools or chemicals for the installation process.
Tape-ins brought the average time for getting extensions down from several hours to as little as 30 minutes. Applying tape-ins too close to the scalp can make removal difficult and may cause damage as the further the bond is from the root, which is why they should always be installed by a certified professional. Tape-in extensions allow for easy removal, the ability to reuse the hair, and the ability to maximize placement options giving the client a more natural, clean look. Tape-ins are considered semi permanent extensions and can last around 4-8 weeks before needing to be changed or re-applied.
I-Tip extensions are made up of several hair strands glued together at the tip. They are a type of hair extension that latches onto natural hair using flattened microbeads or metal cylinders. I-Tips are a great option because they offer easy access to the scalp. All your natural hair will be left out, unlike with sew-in weaves, where the majority of natural hair is braided down under the extensions. This translates to less time in a stylist's chair.
Your I-Tip installation will last six to eight months, while the hair itself will last a little over a year. We recommend a visit to the salon every four to six weeks so that the cylinders can be opened and shedding or dead hair can be removed. Once all the debris is cleared, your stylist will slide the cylinder back up and secure it over new growth.
BELLAMI Keratin Tip (K-Tip) extensions are installed using a heating element which safely melts the Keratin Tips onto your hair. This Keratin Tip is partially made of the same naturally occurring protein found in your hair. A silicone additive on the K-tip helps to create a protective coating for your natural hair strands. The K-tips are bonded close to the roots of the hair, your BELLAMI certified stylist will ensure there is enough space to allow free movement of your hair which maintains a natural layered texture and feel to your hair.
The application time for pre-bonded extensions can take between 2-4 hours for a full-head. You will need to have your bonded extensions removed and repositioned every 8-12 weeks, depending on your natural hair growth. To be removed, your stylist will crush the bond to break down the keratin, then apply a bond removal solution to remove the extension from the hair.
Achieve seamless length and volume with the newest addition to BELLAMI Professional Extensions: Hand-Tied Wefts. Crafted with the highest quality 100% Remy human hair, these lightweight veils are hand-knotted with fine thread and designed to lay close to the scalp for maximum comfort and wearability. Stack wefts for volume, blend different shades to add dimension or even create a custom color for your Guest. Hand-Tied Wefts give you the ultimate flexibility to showcase your artistry.
For a full head of hair, the application of a hand tied weft ranges from 1-2 hours, while a density application 0.5-1 hour. We recommend maintenance every 4-6 weeks as your hair grows out, with a re application of new hair every 12 -18 weeks. With proper maintenance, your hand tied weft will last 6-12 months.