Which Color BELLAMI Hair Extensions Are Right For Me?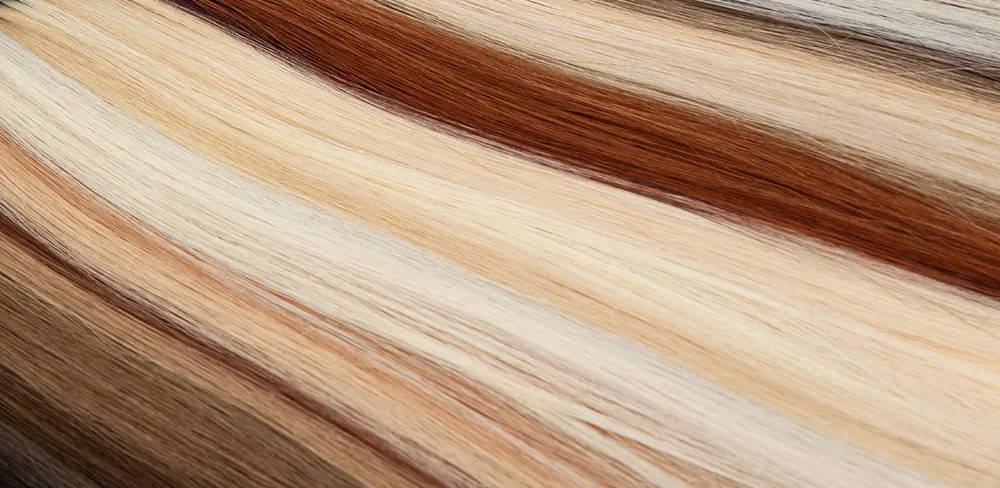 Find Your BELLAMI Silk Seam™ Color Match
BELLAMI / Wellness / Published: Aug-24-2023
So you've always been told you're an Ash Blonde, although it looks like Beach Blonde is your color. But wait, now Ash Blonde looks more golden on your phone than it did on your computer…
Let's face it—finding your perfect match through a screen is difficult (in more ways than one…). That's why we're here to throw you a life raft in these treacherous waters. We tapped Master Extensionist Kat Lewis for some expert help on starting your color match journey on the right foot and for an in-depth breakdown of every shade in our Silk Seam™ collection of clip-in extensions.
How to Color Match
First things first, you'll want to make sure that you can get the most accurate read of your natural hair. Kat's top three tips to do can be found here.
Lighting is everything—look at your hair in indirect sunlight!
Match your clip-ins to your ends—they're going to impact the color match the most.
Choose the right length—begin measuring at the nape of your neck, not your roots.
Make note of the color and tone of your hair, especially the ends. If you can, take pictures of your hair to reference throughout the shade breakdown. We've included the timestamps so you can easily jump between the sections.
Let's begin with our NATURALS collection!
0:51 Jet Black
1:20 Off Black
1:58 Mochachino Brown
2:40 Dark Brown
3:10 Chocolate Brown
3:48 Walnut Brown
4:35 Chestnut Brown
5:05 Almond Brown
5:52 Ash Brown
6:44 Strawberry Blonde
7:37 Dirty Blonde
8:25 Butter Blonde
9:10 Beach Blonde
9:53 Ash Blonde
10:28 Platinum Blonde
Next in line, MARBLE BLENDS!
11:43 Bronzed Caramel Marble Blend
12:31 Caramel Marble Blend
13:17 Ash Bronde Marble Blend
Continuing with ROOTED Clip-ins:
14:32 Rooted Off Black/Almond Brown
15:00 Rooted Ash Brown/Honey Blonde
16:27 Rooted Cool Brown/Butter Blonde
17:27 Rooted Walnut Brown/Ash Blonde
18:42 Rooted Vanilla Latte
Introducing HIGHLIGHTED shades:
19:51 Ash Bronde Highlight
20:31 Honey Comb Highlight
21:45 Vanilla Latte Highlight
22:41 Pearl Blonde Highlight
Hello, BALAYAGE!
24:10 Dark Brown/Chestnut Brown Balayage
25:28 Dark Brown/Dirty Blonde Balayage
26:25 Mochachino Brown/Dirty Blonde Balayage
27:43 Cool Brown/Dirty Blonde Balayage
28:34 Golden Hour Blonde Balayage
29:46 Ash Brown/Ash Blonde Balayage
30:53 White Mocha Balayage
Moving on to OMBRE shades:
32:27 Dark Brown/Ash Brown Ombre
33:06 Warm Brown/Honey Blonde Ombre
33:55 Ash Bronde/Strawberry Blonde Ombre
Last but not least, RED!
35:32 Mulberry Wine
35:59 Cinnamon Mocha
37:04 Spiced Crimson
Congratulations, you made it! Hopefully now you feel confident in what could be your perfect match. They say, "When you know you know," but if you aren't sure after watching this video, then we have more resources to help.
Color Match Team
Our Color Match Team is always happy to play matchmaker. Send them an email at info@bellami.com with a few photos of your hair in natural, indirect sunlight (not direct please!). Please make sure that there are no filters or edits that could affect your hair color in the photos. Once submitted, our color matching team will assess your hair and get back to you their recommendations. They can also assist in choosing the best length.
BELLAMI Beauty Bar
If you live in select cities near one of our locations, schedule a date at a BELLAMI Beauty Bar! Our incredible stylists will find your dream extensions during a complimentary one-on-one session. See locations: https://www.bellamihair.com/pages/bellami-beauty-bar
Try BELLAMI IRL
POV: You think you've found them; they're the right length and the perfect color. That means it's now or never—It's time to add to cart. But don't worry, we're well aware that sometimes things don't always work out and we want to make ordering extensions virtually risk and anxiety-free! That's why we include a weft of tester hair in each set of BELLAMI Clip-In Extensions. Here is how to use the tester hair:
Upon receipt, remove only the tester from the packaging to see how the extensions blend with your natural hair and texture without voiding the warranty. If it's a match, then congratulations! If not, please see how to start a return or exchange.
Return & Exchange Policy https://www.bellamihair.com/pages/exchange-policy
BELLAMI Beauty Bar
Sometimes you've got to meet face-to-face—If you live in or near one of our location cities, schedule a date at a BELLAMI Beauty Bar! Our incredible stylists will find your dream extensions during a complimentary one-on-one session.