Transform Your Look: Last-Minute Barbie Costume Tutorial

It's BELLAWEEN—your source of inspiration this Halloween! We're unveiling a new look each week to show you how BELLAMI can help you make that transformation.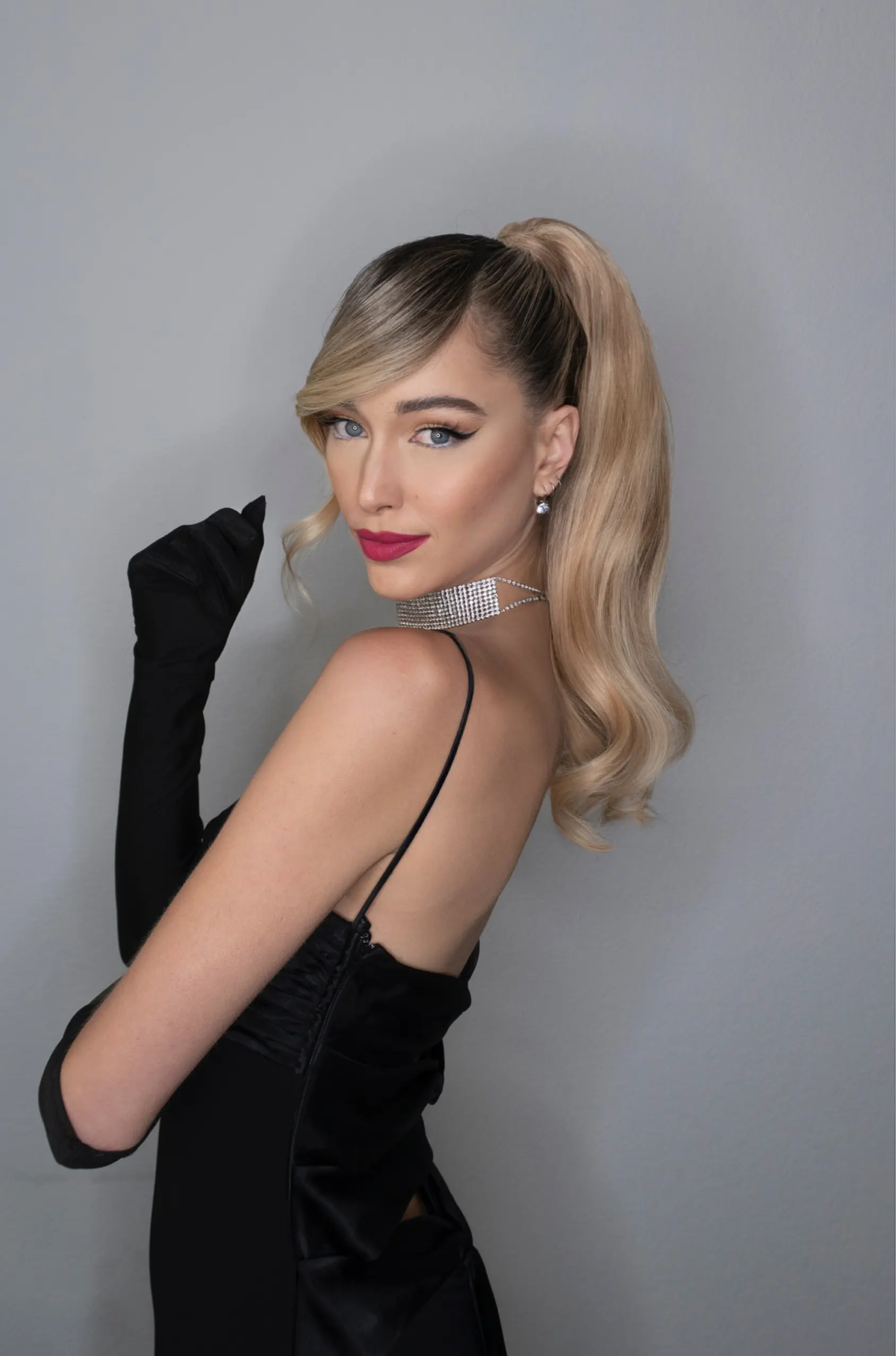 The Last Minute Vintage Barbie Tutorial
It happens to the best of us—you thought you were sitting out this Halloween but just got an invitation, and you need a look stat. Barbie will be the year's costume—especially Cowgirl Barbie and Rollerblading Barbie, but those outfits require specific items that require more planning.
Allow us to introduce Vintage Barbie—as in the one Margot Robbie channeled at the Los Angeles Premiere of the Barbie movie. This costume can be pulled together in record time, and we think you may already have what you need in your closet.
Follow along and let BELLAMI Ambassador Ian Maxion (@ianmaxion) show you how to do your hair, and we'll tell you how you can create the perfect outfit!
How To Create Vintage Barbie's Hair
Section off your fringe by creating an uneven-looking triangle and clip them away.
Put your hair up in a high ponytail using the Secure the Mane Bungee, then tie an elastic around the pony about an inch away from the base of the bungee.
Wrap the wrapping strand around the base of your ponytail, securing it in place. Use a strong hold hairspray and lock it in with a cool shot from a blow dryer—you won't need bobby pins! Hot Tip: Flawless Blend leave-in will blend your natural hair with your ponytail and add heat-protection before curling.
Use a large barrel curling iron like the 1.5 Inch Curling Iron to create loose Hollywood waves, pinning up every section as you curl your hair.
Curl and pin your bangs, then let all the hair cool and set for a few minutes before letting it down.
Brush the ponytail out, and let the bangs down, combing them into place.
Look for a long black dress in your closet or borrow one if you don't have it. You can also try a black top and a long black skirt for a similar look.
Accessorize with long black gloves that go up to your elbows.
Add some sparkling diamond costume jewelry, such as a statement necklace or earrings, for that red carpet glamour.
Red lipstick and false eyelashes will tie everything together.
With these steps, you can transform yourself into a last-minute Vintage Barbie that's sure to impress. And for a limited time, receive a complimentary Faux Wrap Ponytail with any purchase over $290. Through October 31st, you'll also receive 15% off that order. Tag us @bellamihair to share your Halloween transformations. Happy BELLAWEEN!