| | |
| --- | --- |
| | |
Details
Total weight:
 240 Grams / 8.46 oz
Total Pieces:
 10
Length:
 24 Inches
Magnifica Range Contains (10 Pieces):
1 x 8 inch wefts
1 x 7 inch wefts
2 x 6 inch wefts 
2 x 4 inch wefts 
4 x 1.5 inch wefts 
Putting in BELLAMI Hair Extensions Is Extremely Simple And Takes Less Than 5 Minutes - We Promise!
These are recommended instructions as there is no one way of putting in your BELLAMI's!
 
STEP 1 – SEPARATE YOUR HAIR

Starting at the lower back section of your head, use a tail comb or index finger to divide (horizontally part) your hair, at the lower back of the head i.e. just below one ear to the second ear.

*Also, you can start parting even lower, as low as you want to place the first weft*
STEP 2 – SECTION YOUR HAIR

BELLAMI Clip in Hair Extensions should be attached from the bottom up. Starting at the lowest point on the hairline, and using a tail comb or your index fingers, create a part where you wish to section off the hair.
STEP 3 – CLIP UP YOUR HAIR

Clip your remaining hair, firmly on the top of your head, to keep it out of the way as you fit the wefts.
STEP 4 – PREPARE THE FIRST WEFT

Take the first weft from your pack of BELLAMI Clip in Hair Extensions. The first weft should be long enough, so that the weft is wide enough to sit along the back of your hairline. Then open all the clips so they are ready to be inserted into your hair.
 
STEP 5 – PLACEMENT OF THE FIRST WEFT

Next take one of the wider hair wefts and insert the opened centre clip just below the parting.  Insert the snap clip on your hair not on the raw scalp.  Snap the clip shut, so it grips your hair. Repeat with the remaining clips.
 
STEP 6 – CREATE A NEW PARTING

Release the hair you held out of the way and create a new parting.  To do this, comb down a layer of hair, with about half an inch or so between each weft layer.  Each time secure the extra hair, on top of your head.
STEP 7 – PLACEMENT OF THE REMAINING WEFTS

Now insert the remaining wefts in the same manner as above.  Repeat the process with a new parting above each weft extension.
STEP 8 – CHECK FOR GAPS

Now that the BELLAMI Clip in Hair Extensions are attached, run your fingers along the weft to make sure it lies flat against your head along the entire width. If there are any gaps, correct this by snapping the clip open, lifting it off hair and repositioning it so that the weft lies flat.
STEP 9 – PLACEMENT OF THE SIDE PIECES 

Insert and position the 4 side pieces so they frame the face and blend with your own hair.  


STEP 10 – REMOVING THE HAIR WEFTS

To remove BELLAMI Clip in Hair Extensions, snap open all the clips and gently lift up and away from your hair. Never try to remove a weft without first opening all the clips. 


What is the difference between 220g, 160g and 120g?

Piccolina

120g 18"

Bambina

160g 20"

Bellissima

220g 22"

100% Remy Human Hair

Double Drawn

Total Weight
120 Grams
Total Weight
160 Grams
Total Weight
220 Grams
Total Length
18 Inches
Total Length
20 Inches
Total Length
22 Inches
Total Pieces
7
Total Pieces
10
Total Pieces
10
 
Number of Wefts
Size of Weft
Number of Wefts
Size of Weft
Number of Wefts
Size of Weft
2
4 Clip Weft
1
8" Weft
1
8" Weft
3
3 Clip Weft
1
7" Weft
1
7" Weft
2
2 Clip Weft
2
6" Weft
2
6" Weft
 
2
4" Weft
2
4" Weft
 
4
1.5" Weft
4
1.5" Weft
 

How long does shipping take?

Canada: 7-12 working days

USA: 5-7 working days

International: 

10-15

 

working days (may be longer for slow-to-ship countries)




How do I track my package?

You will be emailed a shipment confirmation email along with a tracking number to track the shipment of your package. In some circumstances, this tracking number is not a step by step tracking rather a delivery confirmation. 

What is the double drawn range?

Our double drawn range means thick and voluptuous hair from top to bottom. This is in contrast to the natural ends like our own hair has, which may be thinner towards the bottom. 

My BELLAMIS aren't the right colour and I haven't opened the main part of the package, how do I return/exchange?

If you would like to send them back for an exchange or refund, you may do that as long as the security seal has not been broken and they have not been opened or worn, please contact us prior to sending your BELLAMIS back for full details & address information.




Please write on the outside of the package with a marker "

RETURN

 - 

NO

 

DUTIES

" so they don't get held up in customs. Please also include your order number inside the package. Please do not use UPS as they can charge very high rates on this side of the border. Feel free to use USPS regular shipping. We recommend sending it back with a tracking number as we cannot be held liable for lost or unknown whereabouts of returns or exchanges.


*Note: You may only return or exchange any BELLAMI Professional Styling Tools if the item was purchased at full price. If a promotion or discount code was used, we are not able to offer a return or exchange.*



Where do you ship from?

Our shipping facility is currently located in Los Angeles, California USA.

My payment won't go through?

Try using a different browser, this tends to be the solution. If you are still experiencing issues, feel free to contact us at info@bellami.com :)

How do I know which colour to choose?

If you are unsure on which colour will match you, feel free to send us an email to info@bellami.com of your hair taken outside in natural light and we would love to colour match you :)

My colour is on back order, can I still purchase it?

Yes, you certainly can! Placing an order will reserve a set for you so once we are back in stock, we will send you your BELLAMIS right away! 

How do I clip-in my BELLAMIS?

How long does my hair have to be to wear BELLAMIS?

We recommend 6 inches minimum, but if you think you can make it work then you are more then welcome to try it out :)

Can my BELLAMIS be dyed?

Our extensions are 100% human hair that have gone through its own dyeing process, and although they were constructed to accept color, we do suggest getting a professional opinion by an experienced colorist. Dyeing may lead to shortening the lifespan of your BELLAMI's and possibly cause damage if not done correctly. We also recommend not lightening or using any bleaching agents.
We do not recommend dying our Balayage or Ombre sets as they have been processed multiple times. Due to the processing they have gone through they do not take to dying well.

Please keep in mind, that if chosen to dye BELLAMIS, it is up to the customers discretion and done at your own risk.

One of our fashionistas and fabulous YouTube beauty guru has a video on dying them, showing you how simple it is, which can be watched here: http://www.youtube.com/


Can I use styling tools on my BELLAMIS?

Yes you can! We always recommend using a heat protectant spray and on a side note some ladies wash them first to take off the vitamin enriched coating. 

Can I wash my BELLAMIS?

Absolutely, try staying away from shampoos with sulfate in them and use hydrating conditioners! Leave-in conditioners and heat protectants will prolong your BELLAMIS life span.

How often do I wash my BELLAMIS?

ONLY wash your BELLAMI Hair extensions when they look like they absolutely need it! As they are not attached to your scalp, they don't receive the natural oils as our own hair does! So there is no need to wash them as often as you wash your own hair.

How long do BELLAMI Hair extensions typically last?

The lifespan of BELLAMIS is anywhere from 3 - 6 months, depending on their usage and how they are cared for and maintained. 



My BELLAMIS are shedding, what do I do?

Some shedding is normal within the first couple wears, just like your own hair! But if you feel your BELLAMIS are shedding excessively, please feel free to contact us. 

What does it mean when an item is on Back-Order?

Popular items may sell out quickly and temporarily be on back order. This means that the items are currently out of stock but that there are shipments on their way to re-stock our warehouses. Ordering an item that is currently on back order is a worry-free way to ensure that you will be first in line for the new inventory and that the item which you ordered will be sent out to you as soon as we receive it!

The backordered items in any order will automatically ship out as soon as we receives the items.
You will be notified via a shipment confirmation email (and a tracking number) once your back ordered items have shipped. You will not need to contact customer support, or do anything to follow up on the back ordered item We will take care of it for you from here on out!
We will do our best to estimate when back ordered items are expected to ship, and post this information on the website, as well as update all customers who have purchased back ordered items.

What is the difference between the wrap & clip ponytails?
Our wrap ponytail is a more natural way to get great length and volume! You would simply put your natural hair into a ponytail, and then place the bobby pin anchor into the top of the ponytail. Then, you would wrap the single strand of hair around until it Velcro's together! Some people also like to use bobby pins to make it more secure.

Our clip ponytail is the better option for higher ponies. You would put your natural hair into a ponytail, and then tie it again with the hair tie attached to the clip. Afterwards, you will use the claw clip to clip the ponytail on your natural hair
20. Should I wash my clip-ins before wearing?
All consumer clip-ins and professional extensions have a vitamin seal that acts as a protective layer. Purchasers must wash their clip-ins before wearing them, and stylists must wash them before installing them on a guest. 
Washing the extensions removes the vitamin seal; with it, some color may wash off. This is normal and does not affect the color or extensions' quality or longevity. It is typical after hair coloring in salons or at our factories.
Although color bleeding may last a few washes, most will occur during the initial wash. The runoff will be more visible for darker colors. 
Always wash extensions with a gentle sulfate-free shampoo and conditioner to protect them. We recommend BELLAMI Moisture Restore shampoo and conditioner for the best results.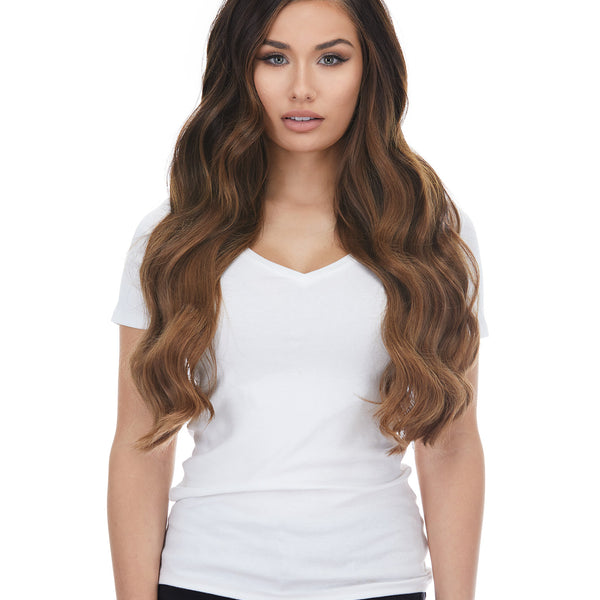 100% REMY HUMAN HAIR
Bellami Hair Clip-in hair extensions are made with the highest quality, 100% Remy human hair. Available in the widest range of colors, length and weight, they blend naturally with your own hair and can be easily styled with thermal tools.